Nestled in the heart of the Coast Mountains, Whistler is not just your regular Canadian town. With majestic landscapes and year-round activities, it's a haven for outdoor enthusiasts. But beyond its slopes and trails, Whistler holds a secret. It's a dynamic cultural hub, hosting a tapestry of events that draw visitors from all corners of the globe. If you're planning a trip and wondering when to catch these events, we've got you covered. From the glitz of film festivals to the thrill of biking extravaganzas, this guide will walk you through the top 3 events in Whistler, when to experience them, and how to make the most of your visit.
Whistler Event 1: Whistler Film Festival
When the snow starts to fall, and the mountain town transforms into a winter wonderland, Whistler welcomes cinephiles from around the world for its annual Whistler Film Festival. Celebrated in late November to early December, this five-day event has gained prominence since its inception in 2001, featuring both Canadian and international talent. Over 80 films, including numerous world premieres, are screened at this festival, highlighting Whistler's commitment to nurturing the arts and encouraging cinematic discourse. It's a rare blend of small-town warmth and international acclaim.
The festival's schedule offers a rich array of experiences beyond film screenings, including networking events, industry initiatives, and celebrations that champion a diverse selection of filmmakers. Whether you're a movie buff, an industry professional, or just someone who loves a great narrative, the Whistler Film Festival has something for everyone. From early-morning screenings to late-night parties, the festival creates a buzz that invigorates the sleepy town of Whistler, making it the ideal time to visit.
This event provides an opportunity to brush shoulders with industry insiders, learn from filmmakers during in-depth panel discussions, and explore new genres that you may not typically encounter in your local cinema. The festival also recognizes the best in Canadian and world cinema with its coveted Borsos Awards, making it a key event in the country's film circuit.
The Whistler Film Festival's blend of cultural immersion, picturesque settings, and creative exploration makes it a must-visit event for any art and culture enthusiast. But remember to book your tickets and accommodation early as the town quickly fills up with like-minded cinephiles who are eager to experience this celebration of cinema.
Key Takeaways
The Whistler Film Festival is an annual event that takes place in late November to early December.
It features over 80 films, numerous networking events, and panel discussions.
Early booking of tickets and accommodation is advised to ensure your spot at the festival.
Making the Most of the Whistler Film Festival
Attending a film festival, especially one as popular as Whistler's, can be quite an overwhelming experience. With a packed schedule and numerous choices, it can be challenging to navigate your way and extract the most from your experience. But don't worry, we're here to help you with that.
Before you go, take some time to go through the festival's schedule. With a plethora of films, it can be easy to feel lost, but a little research can go a long way. Identify films and events that pique your interest. This way, you can plan your days strategically, ensuring you don't miss out on any film or event you really wanted to catch.
One of the great things about the Whistler Film Festival is its intimate scale, which allows for personal interactions with filmmakers and industry professionals. Make sure to attend the panel discussions and Q&A sessions that follow the screenings. These sessions provide a chance to gain insight into the creative process behind the films and engage in meaningful dialogues. Don't shy away from asking questions—it's a fantastic opportunity to expand your cinematic understanding.
While films are the central part of the festival, don't forget to soak in the atmosphere of Whistler itself. During the festival, Whistler Village comes alive with vibrant energy. The village, with its beautiful twinkle lights and snow-capped mountain backdrop, offers a delightful setting for the festival's social events. Mix and mingle with festival-goers at the various networking events, receptions, and parties hosted throughout the town. These events offer a chance to meet fellow film enthusiasts, and who knows, you might even rub shoulders with some film industry insiders.
Lastly, remember to take care of yourself during the festival. It can be easy to get caught up in the whirlwind of screenings and social events, but ensure you're well-rested, hydrated, and nourished. Whistler boasts a vibrant culinary scene, so take some time out to explore local eateries. From cozy cafés perfect for a post-screening discussion, to fine-dining restaurants for a special evening out, you'll find plenty to satiate your gastronomic cravings.
Key Takeaways
Pre-plan your festival experience by researching the schedule and marking films and events of interest.
Attend panel discussions and Q&A sessions to deepen your understanding of the films and engage with filmmakers.
Utilize the festival's social events to network and meet like-minded film enthusiasts.
Take care of your health during the festival and explore Whistler's culinary scene.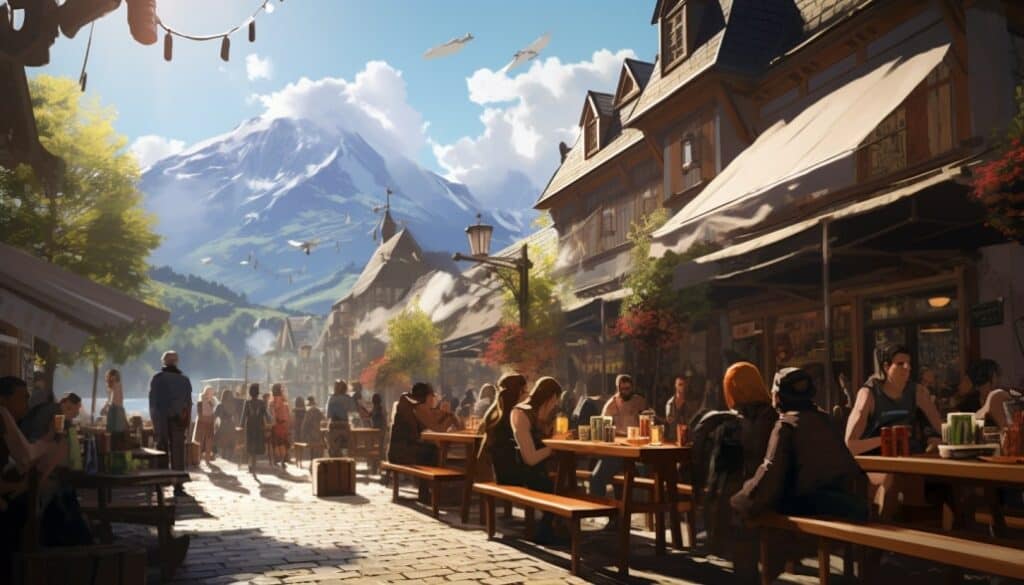 Whistler Event 2: Crankworx Whistler
From the silver screens of the film festival, we now shift gears to the adrenaline-fueled world of mountain biking with Crankworx Whistler. Every August, Whistler morphs into the epicentre of the mountain biking universe with Crankworx, the most significant celebration of gravity-fueled mountain biking. It's not just a competition, but a festival that brings together riders, fans, and industry insiders to celebrate the sport they love.
Kicked off in 2004, Crankworx has grown from a small local competition into the ultimate celebration of mountain biking, attracting the world's best riders to compete in a range of disciplines. Whether you're an experienced rider or just a biking enthusiast, Crankworx offers a thrilling experience.
From downhill races that test nerves and skills on Whistler's world-renowned slopes, to slopestyle events showcasing jaw-dropping bike tricks, Crankworx offers unparalleled action and excitement. The 10-day festival also includes kid's events, making it a family-friendly affair.
The festival goes beyond bike competitions. It also includes concerts, demo zones, parties, and opportunities to rub shoulders with the sport's biggest stars. A walk around the festival ground will expose you to the latest biking gear and technology, live music that keeps the atmosphere pumping, and food stalls to fuel up for more action.
If you're visiting Whistler in August, Crankworx is one event you simply cannot miss. It's an exciting spectacle, even for those who are new to the sport. Be prepared for a surge of adrenaline as you witness the thrill, the speed, and the passion for mountain biking on display.
Key Takeaways
Crankworx Whistler is an annual mountain biking festival held every August.
The festival showcases various biking competitions, concerts, demo zones, and kids' events.
It offers a thrilling experience, even for those who are new to the sport.
Experiencing Crankworx Whistler Like a Pro
Navigating through a high-energy event like Crankworx can be a challenge for the uninitiated, but with a bit of preparation and the right attitude, you can enjoy it like a pro.
Start with the schedule. The Crankworx schedule offers an overview of the different events happening during the festival. Take note of the events you don't want to miss, and plan your day around them. Remember, some events like slopestyle and downhill races draw large crowds, so arrive early to secure a good viewing spot.
Crankworx is not just about watching, but also participating. Many events, like bike demos and expos, are open to the public. Here, you can test-ride the latest models, meet the creators behind the innovations, and potentially discover your new favourite bike.
When attending an outdoor event like Crankworx, weather can be a significant factor. The weather in Whistler can be unpredictable, especially in the mountains, so dress in layers and be prepared for all conditions. Don't forget your sunblock, hat, and a refillable water bottle to stay hydrated.
Finally, immerse yourself in the festival spirit. Cheer for the riders, engage with fellow fans, and soak in the energy of the event. Crankworx is a celebration of the mountain biking community, and being part of it, even as a spectator, is a unique and rewarding experience.
Key Takeaways
Prepare for Crankworx by studying the schedule and planning your day around your must-see events.
Participate in public events like bike demos and expos to fully engage with the festival.
Dress appropriately for the unpredictable Whistler weather and ensure you stay hydrated.
Immerse yourself in the festival spirit by cheering for riders and interacting with fellow fans.
Whistler Event 3: Cornucopia
After an adrenaline-pumping exploration of Crankworx, we take a flavorful detour into the realm of culinary indulgence with Cornucopia. Whistler's celebration of food and drink, Cornucopia takes place every November. It's an event that tantalizes the senses, making it a must-visit for foodies and wine enthusiasts.
For over two decades, Cornucopia has been a premier event on the culinary calendar, attracting chefs, sommeliers, vintners, restaurateurs, and food and drink enthusiasts from around the world. It's an eleven-day extravaganza filled with wine tastings, gourmet dinners, educational seminars, and raucous after-parties.
The festival celebrates local and international culinary expertise and the bounty of the season in a way that few other events do. Chefs from Whistler's renowned restaurants showcase their skills and creativity, presenting dishes that highlight local ingredients and inspire new ideas.
One of the key highlights of Cornucopia is the wine tastings. From sipping elegant Champagnes to sampling robust reds, these sessions led by experienced sommeliers provide a fascinating glimpse into the world of wine.
If you're passionate about food and wine, Cornucopia is an event not to be missed. It's a feast for the senses and a celebration of good taste, ensuring an unforgettable experience.
Key Takeaways
Cornucopia is an annual culinary festival held in Whistler every November.
The festival features wine tastings, gourmet dinners, educational seminars, and after-parties.
It's a must-visit event for food and wine enthusiasts.
Making the Most of Cornucopia Whistler
Attending a food and wine festival as comprehensive as Cornucopia can be overwhelming. With so many events happening, it can be challenging to decide where to start. Here are some tips to help you make the most of your Cornucopia experience.
First, check out the Cornucopia schedule well in advance. Decide which events you absolutely don't want to miss and plan your schedule accordingly. Remember, some of the popular events can sell out quickly, so secure your tickets early.
When it comes to wine tastings, be adventurous. This is your chance to explore different varieties and regions. Use the opportunity to learn from the experts, ask questions, and expand your wine knowledge. But remember to pace yourself. It's not about drinking the most but experiencing the different flavours and understanding the nuances of wine.
Don't forget to eat! It may sound silly at a food festival, but sometimes people get so caught up in wine tastings they forget to eat. Whistler's top chefs put on a great show during Cornucopia, creating delicious dishes that are worth trying.
Lastly, don't forget to have fun. Engage with the chefs, sommeliers, and your fellow festival-goers. Share experiences, trade recommendations, and enjoy the camaraderie.
Key Takeaways
Plan your Cornucopia experience in advance by studying the schedule and buying tickets early.
Be adventurous during wine tastings and use the opportunity to learn more about wine.
Remember to eat and try the fantastic food offered by Whistler's top chefs.
Engage with chefs, sommeliers, and fellow festival-goers to fully immerse yourself in the festival experience.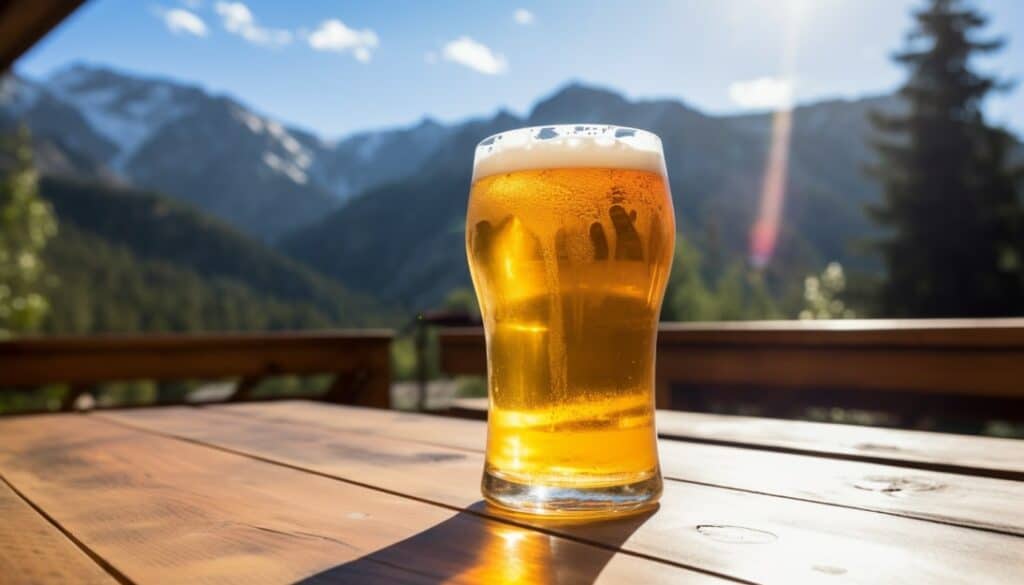 Making Your Whistler Journey Unforgettable
Having navigated through the exhilarating events of Whistler, you might be wondering what else the charming mountain town has to offer. Whistler is not just about events; it's a vibrant ecosystem that thrives on outdoor activities, gastronomic delights, cultural experiences, and an undying love for nature. Let's explore how you can turn your Whistler trip into an unforgettable journey.
Local Delights Outside of Events
While Whistler's annual events are truly remarkable, the local scene in between these events is equally vibrant and enticing.
Starting with the culinary landscape, Whistler boasts a rich and diverse food scene that goes beyond the grandeur of Cornucopia. Explore eateries like Araxi Restaurant + Oyster Bar, where you can indulge in the freshness of the sea and the rich flavours of the land. The Bearfoot Bistro, is another gem that offers a memorable gastronomic experience.
The cultural aficionado in you will enjoy the Squamish Lil'wat Cultural Centre, a place where you can immerse yourself in the art, history, and culture of the local First Nations.
Outdoor enthusiasts can relish the beauty of Whistler's trails like the Valley Trail or the Rainbow Lake Trail, offering breathtaking views of the mountains, lakes, and forests.
Key Takeaways
Explore Whistler's rich and diverse food scene at local restaurants.
Immerse yourself in local culture at the Squamish Lil'wat Cultural Centre.
Engage in outdoor activities and relish the natural beauty on Whistler's trails.
Must-Have Experiences in Whistler
For a truly unforgettable Whistler journey, there are certain must-have experiences that you should include in your itinerary.
Start by taking a ride on the PEAK 2 PEAK Gondola, the world's longest unsupported span for a lift of its kind. You'll experience stunning 360-degree views of Whistler Village, mountain peaks, lakes, glaciers and forests.
Next, head to Scandinave Spa Whistler for a rejuvenating outdoor spa experience. It's a peaceful haven where you can immerse yourself in the healing power of nature.
For the adventure seekers, experience the thrill of ziplining through the rainforest or challenge yourself with a summer mountain biking session on the world-renowned trails.
In the winter, apart from the ski slopes, try snowshoeing or embark on a snowmobile tour. And of course, don't miss out on the magical experience of dog sledding.
Key Takeaways
Ride the PEAK 2 PEAK Gondola for breathtaking views of Whistler.
Relax and rejuvenate at Scandinave Spa Whistler.
Get adventurous with ziplining, mountain
Concluding Remarks: Reap the Rewards of the Whistler Experience
Whether you're a cinephile, an adrenaline junkie, a foodie, or a snow enthusiast, Whistler has something for everyone. Each event provides an opportunity to immerse yourself in a unique aspect of Whistler's vibrant culture, while also allowing you to explore the beauty and spirit of this charming town. These seven events merely scratch the surface of what Whistler has to offer. To truly reap the rewards of the Whistler experience, come with an open mind, an adventurous spirit, and a readiness to participate and engage. Here's to creating unforgettable memories in Whistler!
Key Takeaways
Whistler's events cater to a wide range of interests and provide unique cultural experiences.
Plan and prepare for these events to make the most of them.
Engage with the events and the Whistler community to create unforgettable memories.
Frequently Asked Questions
What are some other events in Whistler worth checking out? Whistler is home to numerous events throughout the year catering to a variety of interests. Some other notable events include the Whistler Children's Festival, Wanderlust Festival, and the Whistler Half Marathon. It's best to check the official Whistler tourism website for the latest event listings.

Are these events suitable for families? Absolutely! Most events in Whistler are designed to be family-friendly. For example, Crankworx features kids' events, and the Film Festival often has family-friendly screenings. However, some events or parts of events may have age restrictions, so it's best to check in advance.

Do I need to buy tickets for these events? Many events in Whistler require tickets, especially those with limited capacity like film screenings or special dinners at Cornucopia. It's best to check the event's official website for ticket information.

What's the best way to get around Whistler during these events? Whistler is a pedestrian-friendly town, and many events are located within walking distance of each other. There are also free shuttle services during large events like Crankworx.

Where can I stay in Whistler during these events? Whistler offers a range of accommodation options to suit different budgets, from luxury resorts to budget-friendly hostels. It's best to book your accommodation well in advance, especially during large events.

Sources