Travel Effortlessly with EpicRides Private Charter Service
EpicRides specializes in offering an affordable, dependable and hassle-free private bus to Whistler. Relax on our buses and enjoy sightseeing day trips, multi-day trips or door-to-door service.
Epic Rides Charter service is capable of arranging trips for large and small groups.
We operate a diverse fleet of buses enabling us to accommodate groups of all sizes. Our friendly and knowledgeable staff will help you organize a group of any size for simple door-to-door transportation or sightseeing tours.
Let us know your plans and we'll get a quote sent to you within 24 hours. We have hourly rates and destination-based rates.
Rates
Check out our fleet of vans and buses available for private hire.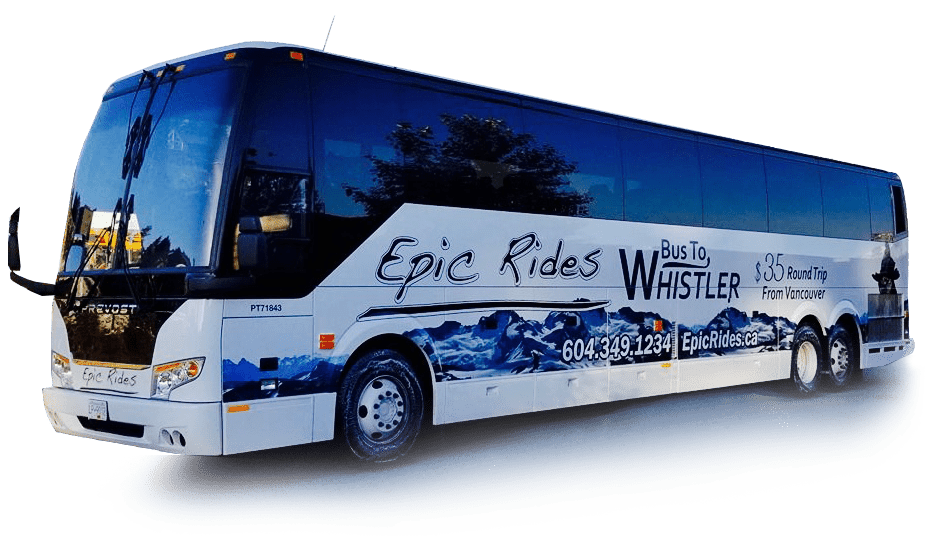 60 Passenger luxury coach
(430 cu. ft. of luggage space)
56 or 60 passenger luxury coach
Vancouver to Whistler one way From $1025
YVR to Whistler one way From $1075
430 cu. ft. under bus, storage
Contact us!
Email us at Charters@EpicRides.ca with the following:
Date/Time of departure and/or return
One way or round trip
Pick up and drop off locations
Number of passengers
Any sightseeing or additional stop requests
Possibility of excessive or oversized luggage

Epic Rides offers affordable scheduled service to Whistler as well, please click here to find out more.