Nestled in the heart of British Columbia, Whistler is more than just a winter wonderland; it's a nighttime haven. The village buzzes with life long after the ski slopes have quieted. A shimmering kaleidoscope of lights, laughter, and live music envelops you as you traverse its streets. Whether you're here to savor craft cocktails, dance to DJ beats, or soak in local culture, Whistler's nightlife promises an experience like no other. Ready to explore the magical world of Whistler after dark? Buckle up, because it's going to be one heck of a ride!
Dive into Whistler's Nighttime Magic
Whistler isn't merely a town; it's a feeling. Every evening, as the sun descends behind the towering peaks, a transformation occurs. The village transforms into a vibrant playground for adults, brimming with excitement, energy, and endless possibilities. You can feel the buzz in the air – a mix of anticipation, excitement, and pure Canadian joy.
In the heart of the Pacific Northwest, Whistler has a unique charm. Famed for its ski resorts and picturesque landscapes, its nightlife scene is an intricate tapestry of local culture, international influences, and pure, undiluted fun. The result? A harmonious blend that caters to every taste and desire.
Canadian Comfort: Whistler stays true to its Canadian roots. The local bars and pubs often pay homage to Canadian heritage, offering classic poutines, Canadian beers, and, of course, the ever-popular Caesar cocktails. For a genuine Canadian experience, Destination Canada recommends places like Dubh Linn Gate or Tapley's.

Global Groove: But it's not all maple syrup and moose. With visitors pouring in from around the world, Whistler's nightlife embodies a global vibe. From European-inspired wine bars to American rock-n-roll joints, you'll find a melting pot of cultures and experiences.

Atmosphere Overload: Whether you're seeking a romantic evening by a fireplace, a hip lounge with DJ-spun tracks, or an energetic dance floor to let loose, Whistler has it all. From cozy nooks like the Crystal Lounge to legendary party venues like those on Whistler Blackcomb, there's no shortage of spots to match your mood.

Key Takeaways:
Whistler offers a perfect blend of local Canadian and international nightlife experiences.
From cozy pubs to lively dance floors, the town caters to every vibe and preference.
Top Nightlife Spots to Let Loose
If there's one thing Whistler locals and visitors agree on, it's this – the town knows how to throw a party! With an array of options that would make even the biggest cities envious, deciding where to head can be daunting. Let's simplify that for you.
Destination Canada's Elite List: Start your nocturnal adventures with Destination Canada's handpicked places. Their recommendations are based on countless reviews and in-depth research. Don't miss out on spots like Buffalo Bill's, which is famous for its electric atmosphere and eclectic crowd.

Whistler Blackcomb Vibes: The mountain doesn't just offer daytime fun. The après-ski scene at Whistler Blackcomb is legendary. Merlins Bar & Grill at the base of Blackcomb Mountain is an essential stop. With its iconic nacho plates and live bands, it's a slice of Whistler's heart.

Trust the Masses: While expert opinions are fantastic, sometimes you just have to trust the crowd. Based on numerous traveler reviews, Tripadvisor's top nightlife spots in Whistler include the likes of Garfinkel's and Tommy Africa's. Both venues promise unforgettable nights filled with dance, music, and memories.

Key Takeaways:
Whistler offers a diverse nightlife scene, with options ranging from sophisticated lounges to energetic nightclubs.
Trust expert and crowd-sourced recommendations to discover Whistler's best nightlife experiences.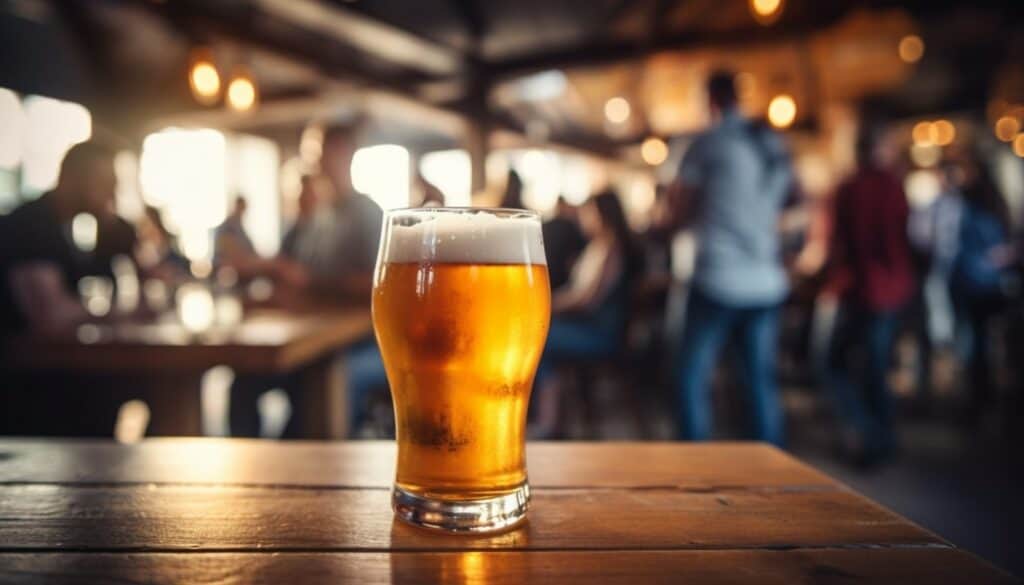 Embark on Let's Roam Whistler
For those looking to combine nightlife with a bit of adventure, Let's Roam Whistler is a godsend. Instead of the traditional bar hop, imagine a scavenger hunt combined with a pub crawl. It's a unique way to see the town, meet new people, and enjoy some drinks along the way. With challenges at each stop, it's a competitive, fun-filled night out. Plus, it's a fantastic opportunity to see parts of Whistler you might have missed otherwise.
Key Takeaway: For a twist on the typical night out, combine adventure and partying with Let's Roam Whistler.
Feel the Rhythm at Whistler's Crystal Lounge
For those who prefer a relaxed, yet lively atmosphere, the Crystal Lounge is a top pick. Located in the heart of Whistler Village, it's a favourite for both locals and visitors. With a long list of beers on tap, live music, and a cozy atmosphere, it's the perfect spot to kick back, relax, and soak in the Whistler vibes. And if you're feeling competitive, their weekly trivia nights are a must-attend.
Key Takeaway: Crystal Lounge offers a mix of great drinks, live music, and a welcoming atmosphere for a chill night out.
Dance the Night Away at Garfinkel's
If dancing is your thing, Garfinkel's is where you should be. Known as the flagship of Whistler's nightlife, it has everything from themed nights to renowned DJs spinning tracks. Its vast dance floor, top-notch sound system, and lively atmosphere make it a favourite for those looking to let loose and dance the night away. Every night promises a different experience, with varying music genres and a diverse crowd.
Key Takeaway: Garfinkel's is the go-to spot in Whistler for dance enthusiasts and those looking for a high-energy night out.
Experience Quirky Nights in Whistler
Whistler might be globally renowned for its breathtaking skiing and picturesque landscapes, but once the sun sets, the town has its own peculiar set of activities that promises an entirely different kind of thrill.
Throw an Axe at Forged Axe Throwing
Ever thought of blending a bit of rugged action into your nightlife? Welcome to Forged Axe Throwing, where you can channel your inner lumberjack. This unique activity has skyrocketed in popularity over the years, with folks loving the blend of competition, skill, and sheer fun. But it's not just about hurling an axe at a target. The place offers weekly events, including trivia nights, ensuring that you're never short of entertainment options.
Key Takeaway: Looking for an off-beat, adrenaline-pumping activity? Forged Axe Throwing promises a night of fun, skill, and camaraderie.
Nightlife Hacks with Lifty Life
With a plethora of choices and so much to experience, diving into Whistler's nightlife can seem a tad overwhelming. Thankfully, Lifty Life offers essential tips and hacks, ensuring you get the best out of your nocturnal adventures. From knowing the best nights to hit specific venues to tips on grabbing those elusive discounts, these hacks, based on years of experience, are invaluable for both first-timers and regulars.
Key Takeaway: Enhance your nightlife experience in Whistler with handy tips and hacks from seasoned experts.
Engage with the Local Artists
Whistler's nightlife isn't just about the glitz and glamour of high-end clubs and bars. Dive deep, and you'll discover a thriving community of artists, musicians, and performers. Local bars often host open mic nights, where emerging talents showcase their craft. The best part? Being a part of this intimate gathering allows you to connect with the real, raw Whistler, unadulterated by commercial interests.
Key Takeaway: Whistler's artistic heart beats vividly in its local bars and lounges. Make sure to catch an open mic night for an authentic experience.
After Hours in Whistler Checklist
After hours in Whistler, there are plenty of activities and entertainment options to enjoy. Here are some things you can do in the evening in Whistler:
| Activity | Description | Sources to Learn More |
| --- | --- | --- |
| Explore the Village | Take a leisurely stroll through the village, which is perfect for shopping, dining, and enjoying a bustling café. | Learn More |
| Cross-Country Skiing at Lost Lake Park | Enjoy the outdoors with some cross-country skiing at Lost Lake Park. | Learn More |
| Ice Skating | Glide on the ice at Whistler Olympic Plaza or Meadow Park Sports Centre. | Learn More |
| Vallea Lumina | Experience a unique multimedia night walk in the forest at Vallea Lumina. This interactive light and sound show takes you on a magical journey. | Learn More |
| Dining | Whistler offers a variety of dining options, from casual to fine dining. Enjoy a delicious meal at one of the many restaurants in the area. | Learn More |
| Après Ski | Celebrate with an après ski session at one of Whistler's three slopeside bars. Relax and socialize after a day on the slopes. | Learn More |
| Indoor Evening Activities | If you prefer indoor activities, try mountain top fondue, join an indoor evening yoga class, or visit one of the local spas for some relaxation. | Learn More |
Remember to check the availability and operating hours of the activities and venues you are interested in, as they may vary. Whistler offers a vibrant nightlife and a range of options to suit different interests and preferences.
Concluding Your Night in Whistler
After a night of adventure, dancing, and maybe a drink or two, winding down is essential. And in Whistler, even the end of your night can be something special. Seek out a quiet café, order a warm cup of Canadian hot chocolate, and reminisce about the evening's highlights. Or maybe find a late-night eatery for a hearty poutine. Whistler's beauty is that it offers experiences for every part of your night, right until the very end.
Frequently Asked Questions
Is Whistler's nightlife suitable for all age groups?
While many activities and venues cater to an older crowd, there are plenty of family-friendly options available as well.
Do I need to book in advance for popular venues?
It's always a good idea, especially during peak seasons and weekends, to reserve a spot to avoid disappointment.
What's the dress code for Whistler's nightclubs and bars?
Most places have a casual dress code, but it's always a good idea to check with individual venues for specific requirements.
Are there any 24-hour eateries in Whistler?
While there aren't many 24-hour options, several places stay open late to cater to the after-hours crowd.
Is it safe to walk around Whistler at night?
Whistler is generally safe, but as with any location, it's essential to be cautious, stay in well-lit areas, and avoid isolated spots.
Sources