Welcome, adventurer! Seeking a sublime mix of relaxation and exhilaration? Look no further than Whistler, Canada's premier alpine destination. Renowned for its snow-dusted peaks, stunning vistas, and a myriad of winter activities, this mountain paradise promises unforgettable experiences. Navigating accommodation choices can be tricky, though. This guide, tailored to your search intent, challenges, and goals, aims to simplify your journey by demystifying Whistler's diverse accommodations landscape. From budget-friendly lodges to luxury chalets, and the must-consider factors in between, let's embark on a virtual tour of Whistler's best places to stay. Ready? Strap on your digital skis, and let's glide!
Understanding Whistler
Perched in the stunning Coast Mountains of British Columbia, Whistler is a gem of Canada's west. A winter sports Mecca, its reputation is founded on Whistler and Blackcomb, two towering mountains offering over 8,000 acres of skiable terrain. However, beyond its world-class slopes, Whistler's appeal extends into a vibrant village, enticing summer activities, and accommodation for every budget and lifestyle.
Geography of Whistler
The village is the heart of Whistler, pulsating with life all year round. It offers a delightful blend of high-end shopping, culinary delights from around the globe, and a thriving nightlife scene, all nestled within the spectacular mountain backdrop. Key amenities are within walking distance, making it an ideal base for your Whistler adventure.
Travel Seasons
Whistler shines across all seasons. The winter months (November to March) witness a flurry of snowfall, making it prime time for winter sports. The summer (June to August), in contrast, unveils a different side of Whistler, with activities like mountain biking, golf, and alpine hiking taking centre stage. Spring and autumn offer a tranquil retreat with fewer crowds and discounted accommodation prices.
Planning a visit? Consider your desired activities. If you're seeking fresh powder, winter is your season. If outdoor exploration and a mix of activities sound appealing, summer might be your perfect match. Shoulder seasons bring fewer crowds and great deals, making them a budget-conscious traveler's best friend.
Key Takeaways: Whistler is a year-round destination offering a blend of leisure and adventure, against a backdrop of stunning natural beauty. Understanding the village layout and seasonal offerings is key to matching your stay with your interests and budget.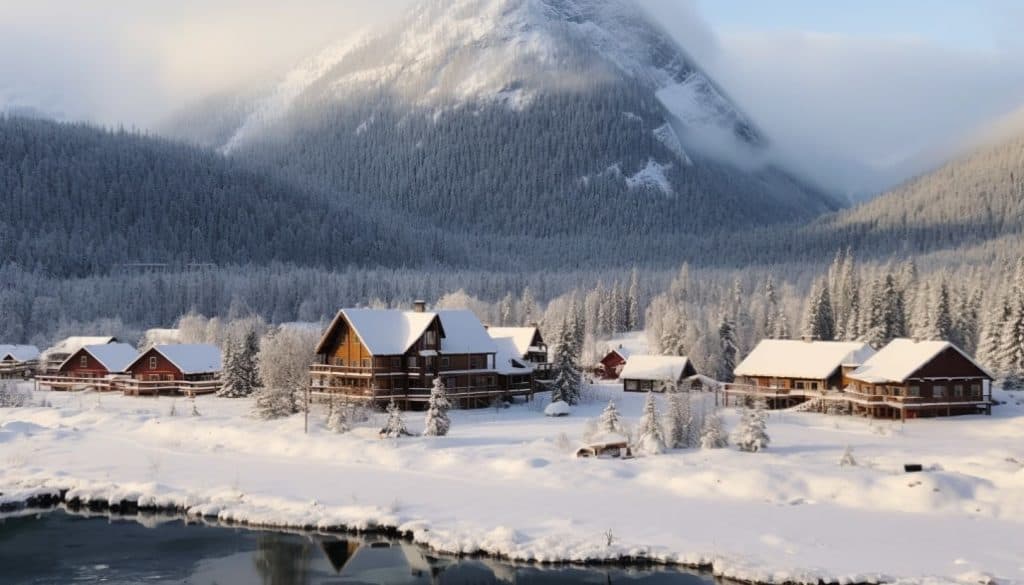 Types of Accommodations in Whistler
Whistler boasts a broad spectrum of accommodation options to cater to different budgets, needs, and experiences. This guide will cover budget, mid-range, luxury, and unique accommodations to help you find the perfect stay.
Budget Accommodations
Staying in Whistler need not break the bank. A variety of budget-friendly options exist for those seeking an affordable alpine getaway. Hostels, such as the HI-Whistler, offer shared and private rooms at competitive prices. These often come with communal kitchens, saving you further on meals. Many budget hotels, like Pangea Pod Hotel, provide a step-up in privacy and comfort while remaining wallet-friendly. Look for accommodations slightly away from the village centre for lower rates.
Plan ahead and book early. In high season, affordable options sell out quickly. Off-peak seasons also offer excellent deals. Remember, saving on accommodation means more to spend on unforgettable Whistler experiences.
Key Takeaway: Budget-friendly options in Whistler abound, offering a mix of shared, private, and budget hotel accommodations. Book early, consider off-peak travel, and look beyond the village centre for the best deals.
Mid-range Accommodations
For those seeking a balance between cost and comfort, mid-range accommodations provide an attractive choice. Condos and lodges, like the Delta Hotels by Marriott Whistler Village Suites, offer well-appointed spaces with amenities like kitchenettes, laundry facilities, and sometimes even fireplaces. Location is often more central, reducing transit time to the mountain base and village amenities.
When choosing a mid-range option, consider your group's needs. Condos with multiple rooms and a living space are excellent for families or groups. They provide space for relaxation and meal preparation, contributing to an overall cozy and homey atmosphere.
Key Takeaway: Mid-range accommodations in Whistler offer a blend of comfort, space, and amenities. These are ideal for groups and families, or those seeking a balance between cost and convenience.
Luxury Accommodations
If your goal is to splurge on a luxurious mountain retreat, Whistler won't disappoint. High-end resorts like The Fairmont Chateau Whistler or the Four Seasons Resort Whistler offer an unparalleled level of comfort and service. From rooms with spectacular views to top-tier spas, fine dining, and ski concierge services, these properties make your stay an experience in itself.
Remember, luxury comes at a cost. But if your budget allows, the extra amenities and services can significantly enhance your Whistler experience.
Key Takeaway: Luxury accommodations in Whistler offer an exceptional level of comfort, service, and amenities. They are ideal for those looking to splurge or celebrate a special occasion.
Unique Accommodations
Craving a stay that's outside the box? Whistler has you covered. From forest yurts to deluxe treehouses, these unique accommodations offer something different. Tripadvisor is a good starting point for finding these exclusive stays.
While often tucked away from the centre, these accommodations offer a unique experience. Whether it's waking up to panoramic mountain views, cozying up in a forest retreat, or enjoying a luxurious chalet, these accommodations promise a memorable stay.
Key Takeaway: Unique accommodations in Whistler offer a distinctive and memorable lodging experience. They're great for those looking for something different, away from the usual hotel offerings.
Remember, your choice of accommodation is about more than just a place to sleep. It's your home base, your sanctuary after a day of adventure. Consider your budget, desired experience, and the needs of your travel companions when making your choice. With the right accommodation, your Whistler adventure will truly be a trip to remember.
Location, Location, Location: Choosing the Right Area
In Whistler, location matters. Each area offers a unique vibe, convenience, and set of amenities. Here's a breakdown to help you decide where to lay your head.
Staying in Whistler Village
Whistler Village, the heart of it all, provides easy access to both Whistler and Blackcomb mountains, shopping, dining, and nightlife. Accommodations here range from budget to luxury, catering to diverse needs. The pedestrian-only streets add to the charm, creating a lively atmosphere all year round. If you prefer being in the middle of the action and want the convenience of having amenities at your doorstep, this is the place to be. However, do note that noise can be a factor during peak seasons.
Key Takeaway: Whistler Village offers a vibrant atmosphere with convenient access to slopes, shopping, dining, and entertainment. Ideal for those who prefer a lively atmosphere and direct access to amenities.
Staying in Whistler Creekside
A quieter alternative to the village is Whistler Creekside. Located just south of the main village, Creekside offers its gondola access to Whistler Mountain, making it an excellent choice for dedicated skiers. It has its collection of shops and restaurants, offering a more laid-back vibe. Accommodations here are primarily mid-range to luxury, with fewer budget options available. If you prefer tranquillity and don't mind being slightly away from the main action, Creekside is worth considering.
Key Takeaway: Whistler Creekside offers a quieter, laid-back vibe with its gondola and a handful of amenities. It's perfect for travellers seeking tranquillity without compromising on convenience.
Staying in Whistler's Outskirts
For those seeking tranquillity and don't mind a bit of travel, areas like the Upper Village, Nordic Estates, and Alpine Meadows offer a peaceful retreat. These areas are primarily residential, providing a local experience. While you'll need to take a short drive or shuttle to reach the gondolas, the peaceful setting and often more spacious accommodations can be a worthy trade-off.
Key Takeaway: Staying in Whistler's outskirts offers a tranquil, local experience. Best suited for those with a vehicle or who don't mind using public transportation, and who value peace and quiet over immediate proximity to amenities.
Remember, there's no 'best' location – only the best location for you. Your preferred activities, need for amenities, and desire for peace or vibrancy should guide your choice.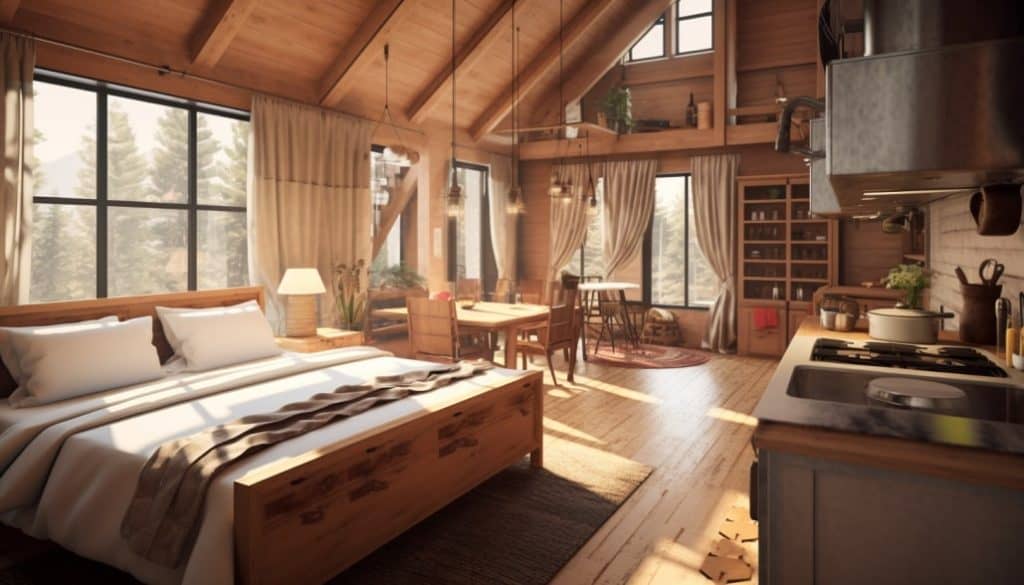 Must-Consider Factors When Booking Your Stay
With an array of accommodations to choose from, it's essential to keep certain factors in mind when making your choice. Here are a few crucial considerations to ensure you enjoy your stay in Whistler.
Proximity to Activities
Depending on your itinerary, you may want to consider how close your accommodation is to your planned activities. Are you keen on skiing or snowboarding? Accommodations with ski-in/ski-out access, found at Whistler Platinum, may be worth considering. If shopping and dining are high on your list, staying in Whistler Village would provide convenient access.
Key Takeaway: Consider the proximity of your accommodation to your preferred activities. A strategically located base can save travel time, providing more time for fun.
Amenities
From simple comforts to luxury perks, the amenities offered by your accommodation can enhance your stay. Essential amenities might include free Wi-Fi, parking, and laundry facilities. Luxurious extras could entail heated pools, spas, ski concierge services, or fine dining restaurants on site. Remember, extra amenities often come with a higher price tag, so weigh their importance against your budget.
Key Takeaway: Amenities can significantly enhance your stay. Be sure to consider what's important to you and choose your accommodation accordingly.
Reviews and Ratings
In today's digital age, guest reviews and ratings are an invaluable tool when choosing where to stay. Websites like TripAdvisor offer a wealth of real guest reviews, providing insight into the experiences of past visitors. Look beyond the star rating and delve into the comments for a better understanding of the pros and cons of each property.
Key Takeaway: Reviews and ratings provide insights into the real guest experience. Use them to help guide your choice.
Choosing your perfect Whistler accommodation may feel overwhelming with so many options. But by considering your preferred activities, necessary amenities, budget, and past
Sealing the Deal: Making Your Reservation
Now that you've chosen your dream accommodation in Whistler, it's time to make it official. Here are some tips for a smooth booking process and potential ways to save on your stay.
Book Direct or Through a Third Party?
Accommodations can be booked either directly through the property or through a third-party website like Booking.com or Expedia. Each has its pros and cons. Booking direct often provides the best customer service and more flexibility if changes are needed. On the other hand, third-party sites can offer competitive rates and the convenience of booking multiple aspects of your trip in one place.
Key Takeaway: Whether booking direct or through a third party, consider the trade-offs between price, customer service, and flexibility.
Booking in Advance vs Last Minute
The best time to book depends on the season and your flexibility. If you're visiting during peak season or have specific requirements, booking in advance is recommended. Off-season or if you're flexible, last-minute deals can offer significant savings.
Key Takeaway: Booking in advance secures your preferred accommodation, while last-minute bookings can save money, especially during off-peak times.
Look for Special Deals and Packages
Many properties offer special deals, particularly during the shoulder seasons. Package deals combining accommodation with activities or lift tickets can also provide value. Check the property's website or sign up for their newsletter for the latest offers.
Key Takeaway: Special deals and packages can add value to your stay. It's worth doing some research or signing up for newsletters to be in the know.
Booking your accommodation is an exciting step in your Whistler journey. By considering whether to book direct or third-party, timing your booking, and looking out for special deals, you can ensure a smooth reservation process and potentially save on your stay.
Pack Up and Get Ready to Embrace the Snow!
You've ventured with us through this comprehensive guide, explored the various accommodations in Whistler, and gained insight into planning your memorable trip. You've learned about the unique charm of different locations, considered the crucial factors while booking your stay, discovered tips for sealing the deal on your reservation, and garnered ideas for enhancing your Whistler experience beyond just where you'll rest your head at night.
Now, it's time to take that final leap and plan your Whistler adventure. Whether you're a seasoned skier, an ardent hiker, or just someone seeking a relaxing getaway amidst stunning natural beauty, Whistler awaits you with open arms (and snow-capped mountains!). Don't forget, the journey is as exhilarating as the destination. The choices you make, the place you stay, and the activities you indulge in will all contribute to your unique Whistler story.
Key Takeaway: You're now equipped with comprehensive knowledge to make informed choices for your Whistler trip. So, don't wait, pack your bags, embrace the snow, and dive into the Whistler experience that promises to be nothing short of extraordinary!
Your Questions Answered
While we've covered a lot of ground, you might still have some specific questions. Let's address some common ones.
What are some affordable accommodation options in Whistler?
Whistler caters to all budgets. For affordable options, consider properties like the HI Whistler, Pangea Pod Hotel, or the Whistler Lodge Hostel. Booking during the shoulder season or looking for last-minute deals can also help save costs.
When is the best time to book a place in Whistler?
Booking time depends on the season and your flexibility. If you're visiting during peak seasons (winter and summer) or have specific requirements, it's best to book well in advance. For off-peak times or if you're flexible, keep an eye out for last-minute deals that can offer substantial savings.
What should I consider when choosing a location in Whistler?
Consider your planned activities, preferences for peace or vibrancy, and need for amenities. Whistler Village offers convenience and a lively atmosphere, Whistler Creekside provides a quieter vibe with its amenities, while the outskirts offer tranquillity and a local experience.
Can I find unique accommodations in Whistler?
Absolutely! Whistler boasts several unique accommodations. From boutique hotels to luxury lodges, chalets, and cabins, there's something for everyone. You could consider properties like the Nita Lake Lodge for a unique stay.
Key Takeaway: Your Whistler trip is unique to you, and we hope these answers further help to personalize your journey. If you have more questions, remember, resources like Tourism Whistler can be a great help.
Sources and Additional Reading