The Epic Rides Express Bus to Whistler is hassle free and affordable. Book your transportation between Vancouver and Whistler online with our easy to use booking engine, or call our office 7 days a week to assist in the booking process.
Quick, Easy, Affordable!

$35 Round Trip.
$24 One Way.
$299 Seasons Pass.
Discounts for groups of 8 or more and children under 12 (call the office).
$0 for Luggage, Skis or Bikes.
No maximum luggage allowance (within reason)
Express, non Stop Service Between Vancouver and Whistler on every trip with an average trip time of 1:45.
Epic Rides is the ONLY company that DOES NOT cancel buses during temporary road closures.
The only company with no hidden fees or extra charges. $35 round trip from downtown and $55 round trip bus from Vancouver airport guaranteed!
COVID
1) Due to Covid-19 we are currently requiring all passengers to bring and wear masks for the duration of the trip while inside the bus and during check in.
2) Our buses are disinfected between every trip.
Epic Rides currently transports more than 200,000 passengers per year between Vancouver and Whistler. We are the #1 recommended company by Vancouver and Whistler locals as well as proud Tourism Whistler and Tourism Vancouver members!
Epic Rides is the only bus company offering direct, non stop service between Vancouver and Whistler Village on every trip.
Click here to view our Schedule
During the ski season we strive to ensure our early morning passengers are at the lifts a few minutes before opening, enabling  front of the line access. Our first bus arrives in Whistler daily at 8:00am. Whistler Blackcomb states the lifts open at 8:30am, however, they typically open at 8:15am. Our drop off / pick up point is at the Gateway Bus Loop in the heart of Whistler Village, a short walk to the ski lifts and hotels!
Epic Rides has an affordable seasons pass on our bus to Whistler for frequent traveler's.  For $299 we offer a winter or summer, unlimited trips, seasons pass. Click here to find out more!
Bus from Vancouver Airport to Whistler Hotels and Residences – $55 Round Trip
Epic Rides now offers a $55 round trip bus from Vancouver Airport to Whistler hotels and Residences. This bus goes direct so we get you there in about 2 hours! No extra luggage fees, express, hassle free, affordable service. Please click here to find out more
Private Buses to Whistler
Our fleet of 14 to 60 passenger buses can accommodate groups of almost any size in and around Vancouver, Victoria, Whistler and the Province of British Columbia. If you need to be picked up from the airport in Vancouver just let us know and we will track your flights to ensure we are ready when you are. Visit our Private Bus to Whistler page to view our charter rates or email Charters@EpicRides.ca for more information and pricing.
Your Bus to Whistler, Book Now!
To book your tickets click on the book now button. Our booking page is available 24 hours a day, 7 days a week. If you would like to book over the phone please call our office at (604) 349 – 1234 and we will be happy to assist you. If we are on the line with other clients, leave us a message (including your last name and room number if you are at a hotel) and we will return your call within the hour. Please ensure you have your Visa or Master Card available.
Our phones are open from 9AM – 7PM year round.
All charges are in Canadian Dollars.
One way trips in either direction $24 + tax per person
Round trips in either direction are $35 + tax per person
For additional tourist information and snow reports click on this link to visit the Whistler Blackcomb website.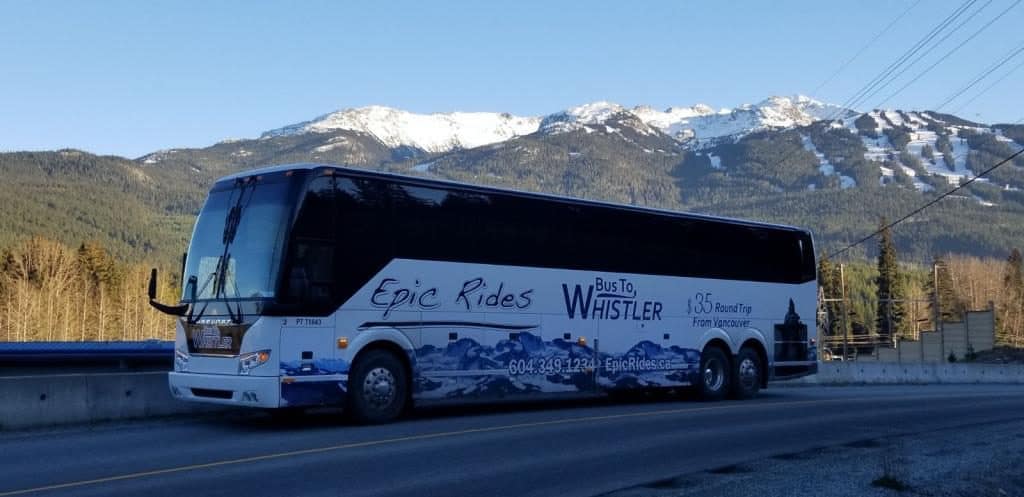 Our phones are open from 9AM – 7PM year round.
604 349 1234