Save up to $100 per person and 2-4 hours of your time on our Direct Bus from Vancouver Airport to Whistler for $65 round trip and $45 One way.
Pick up at the RiverRock beside the airport saving you expensive airport fees.
Drop Off Right at your Departure Gate at YVR.
Free Hotel Pick Up / Drop Off in Whistler
Free Pick Up / Drop Off at many Residential Addresses in Whistler from Cheakamus to Rainbow
Unlimited Luggage with Absolutely No Additional Fees!
Express Buses with Zero Stops Anywhere Along the Way -> This Saves You 2-4 hours round trip compared to the other guys, who make frequent loading and unloading stops
Hassle-Free and No Charge Ticket Changes up to 12 hours before Departure
We Pick Up and Drop Off at All Whistler Staff Accommodations – No run-around!
So Why Go With Us?
After years of requests from our 1,000,000+ customers who have travelled with us, Epic Rides has initiated an affordable, express bus from Vancouver Airport to Whistler hotels and residences. The existing YVR monopoly has led to service that is slow, overpriced and filled with additional hidden fees which lead to prices of over $150 and a 4 hour trip time from Airport to Hotel!  We have eliminated the high prices, the sneaky additional fees and all stops! From our departure point, we are dropping off our first passengers at their hotel or residential address in about 2 hours.
Hotel and Residential Pick Up / Drop Off
Hotels – We drop off and pick up at all hotels, hostels and lodges in Whistler. When you make a booking simply enter the name of your hotel in the required field and we will take care of the rest.
Residential addresses – We drop off as far north as the Chevron in Rainbow. Our buses pull trailers to allow for all your equipment needs, so we must stick to through roads and can't always get into all residential streets. Please give our office a call with the address you are going to and we will let you know exactly how close we can get.
How 5 Minutes Saves You $100
To avoid the monopoly pricing and hidden fees of our YVR-supported competitor, our pick-up location is at the River Rock Resort. This is an easy and direct 5-minute ride on the airport train which is located a short walk from any arrival terminal at YVR. The train is empty from here so you don't need to worry about bringing large amounts of luggage.
At YVR  we drop off passengers at both the domestic and international terminals.
YVR only allows one bus company to service the Vancouver airport to Whistler route, and this monopoly has led to high base prices and a ton of hidden and additional fees – ticket change fees, luggage fees, bike fees, ski fees, hotel pick up fees, hotel drop-off fees etc. At Epic Rides, we have eliminated all additional fees – we have one FULLY TRANSPARENT set price of $65 round trip from YVR to Whistler!
Time-Saving – No Extra Stops and No Transfers
Our buses go directly from picking you up just 5 minutes from the Airport to Whistler, and then from Whistler directly to YVR.
We use smaller buses – instead of having large 56 passenger buses on this route.  This means you don't spend nearly as much time in Whistler waiting to drop off or pick up other passengers at hotels.
Vehicles on This Route
Our primary vehicles for our airport shuttle are shown below. Our goal is an affordable, efficient service. If you want a luxury highway coach we suggest you book our downtown to Whistler bus as we have the newest and most luxurious buses of any bus company serving Whistler.
22 Passenger Luxury Bus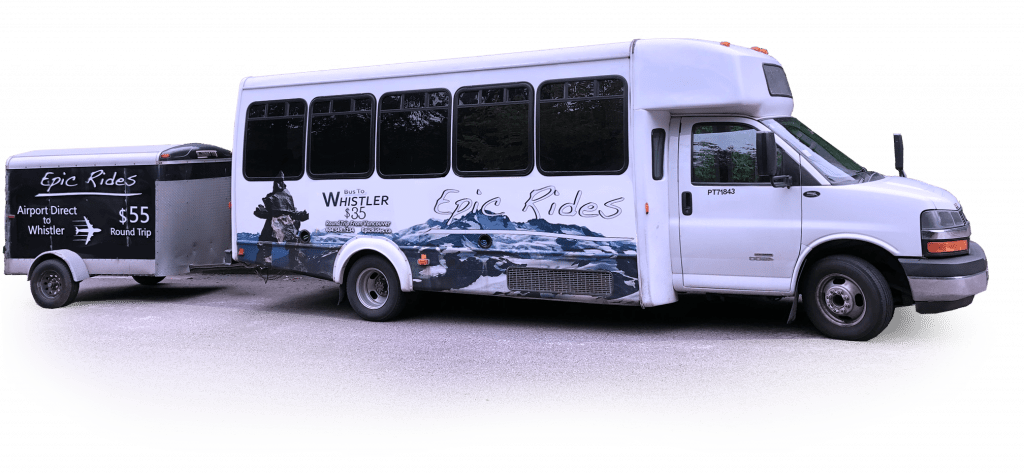 24 Passenger Bus
Schedule
Our Whistler Airport Buses are currently running on the following Daily Schedule:
For January and February the 4:00PM Departure from Whistler on Saturday's and Sunday's will be scheduled at 3:00PM. This is to avoid mass congestion in Whistler during this period so we can ensure passengers arrive at YVR as scheduled.
***Buses that leave Whistler on Saturdays and especially Sunday's at 4PM in January and February have a high probability of hitting traffic jams that can delay you for up to 90 minutes.