Quick and Hassle-Free
The Epic Rides Bus to Whistler from Vancouver is the quickest and most hassle-free way to travel quickly between Vancouver and Whistler. Our bus service between the 2 cities takes you directly from Burrard station in downtown Vancouver to the Gateway bus loop in Whistler (or vice versa) in 1:45.
Our Whistler bus schedule can be located here: click here for schedule.
Here's why people choose Epic Rides:
No extra fees, No luggage restrictions
We don't believe in extra fees, bring your skis, boards and as much luggage as needed, we have plenty of room for your gear. During the summer months, guests can also bring bikes for free on our direct bus to Whistler from Vancouver.
Easy Booking
Guaranteed Prices
$44 round trip or $32.50 one-way Bus to Whistler from Vancouver.
Private bus service
Epic Rides also offers a Private bus service for groups that want to travel on their own schedule. Please view our Private Bus to Whistler page by clicking here to find out more about our Private shuttles around Vancouver and BC.
Easy Changes
Create an account and you can make unlimited free changes to your departure up to 8 hours prior.
Your account can be created when you book your ride.
Reliable
Epic Rides is the #1 recommended bus company serving Whistler and Vancouver. Vancouver and Whistler locals know they can trust us to be there, on time, in the worst conditions, and to get them to their destination safely.
Group Discounts
We offer discounts for groups of 6 or more travelling to Whistler and we offer discounts for children less than 12 years old. Give our office a call to find out more about these special offers!
Need a hand?
Feel free to call our office which is open 7 days a week our friendly and knowledgeable staff will help you book your trip and answer any questions you may have. Our phones are open from 9 AM – 7:30PM year-round.
Need some information about Whistler Blackcomb? Click on the link below to find all of the attractions!
www.whistlerblackcomb.com
Ride in style with Epic Rides!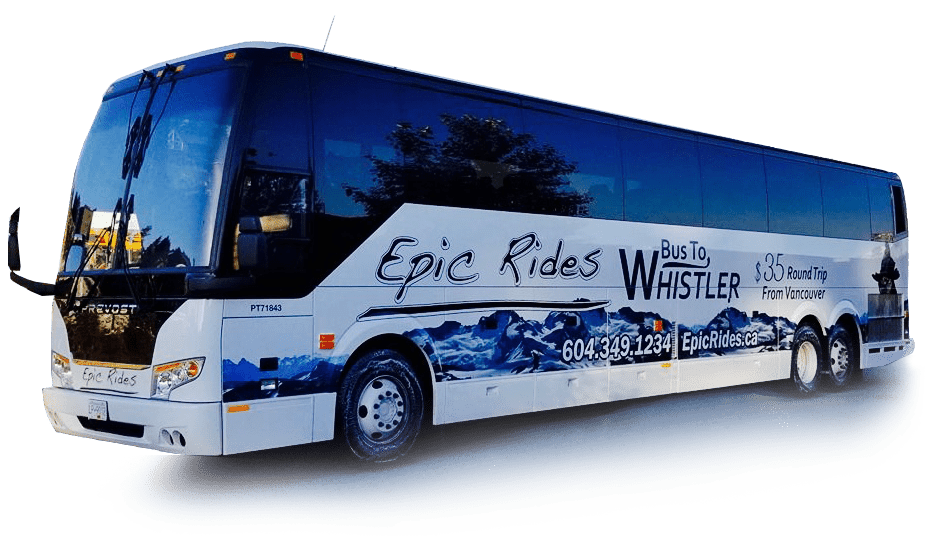 How much is a bus from Vancouver to Whistler?
Indeed, getting from Vancouver to Whistler with a shuttle is an excellent form of transport, and if you choose our team then you can expect excellent value for money on your tickets too. Our shuttle services for our Vancouver to Whistler bus often start in the region of $43 for a round trip – and we never charge more for your bikes, equipment, and the like as well.
What is the best way to get from Vancouver to Whistler?
Shuttle bus services from Whistler to Vancouver can offer a huge amount of potential for your transport needs, making them arguably the best way to get from Vancouver to Whistler. Indeed, our Whistler Vancouver shuttle services are the ideal way to get between these two destinations rapidly, affordably, and easily! Moreover, shuttle bus services also allow you to take your equipment with you, which can be difficult for other transport options!
How long is the bus ride from Vancouver to Whistler?
The shuttle bus ride time will vary depending on the team you choose, the route they follow, and whether there are any disruptions to the normal journey time. As standard, when you choose an express shuttle from Vancouver to Whistler, you can expect the journey time to take approximately 1 hour and 45 minutes; however, delays may make this slower.