Due to a popular demand for a Whistler Airport Transfers Service that doesn't waste your time or your money, Epic Rides now offers a direct bus from Vancouver Airport to Whistler hotels and residences for $65 round trip and $45 One way with no extra fees !
Unlike all other scheduled service providers, our buses do not waste time with stops along the way: this can save you up to 2 hours per trip! Once our bus from Vancouver Airport to Whistler is loaded, we go direct. Our first stop is the first hotel we are dropping off passengers in Whistler. Our Whistler Airport Transfers average time from the River Rock Resort to our first hotel or residential address drop-off point is approximately 2 hours.
Save up to $100 per person and 2-4 hours with our Direct Whistler Airport Transfers!
Direct non-stop service that gets you up to Whistler in about 2 hours
Free hotel, hostel and residential pick-up and drop off – we'll also drop off and pick up guests at any staff accommodation in Whistler
Unlimited luggage – no crafty charges that eat up your budget!
Free changes AT NO COST up to 3 hours before departure.
Our quick and convenient pick-up location is just a 5-minute train ride from YVR – this 5-minute investment at the beginning saves you up to $100 and 4 hours of your valuable time!!
At the end of your trip, we drop you off at the international or domestic departure gates at YVR.
Hotel and Residential Address Pick Up / Drop Off
We offer a free pick up and drop off service at all Whistler hotels, hostels, lodges and most residences, so if you're in a timeshare, at an Air B&B, at a friend's house or coming from staff housing, we will come and get you.
Hotels – When making a booking, just let us know the name of your hotel, hostel or lodge in the required field and we will pick you up and drop you off there for free!
Residential addresses – Please call our office before you make a booking with our Whistler airport transfers to see how close we can get you to your driveway. Our most northern pick-up/drop-off location is currently the Chevron in Rainbow. To make sure we can support you and all the gear you need, we use buses pulling trailers and can't get to addresses on dead-end streets. The pick-up/drop-off location in these instances would have to be the nearest intersection with a through road.
Vehicles on This Route
Our primary vehicles for our airport shuttle are shown below. Our goal is an affordable, efficient service. If you want a luxury highway coach we suggest you book our downtown to Whistler bus as we have the newest and most luxurious buses of any bus company serving Whistler.
22 Passenger Luxury Bus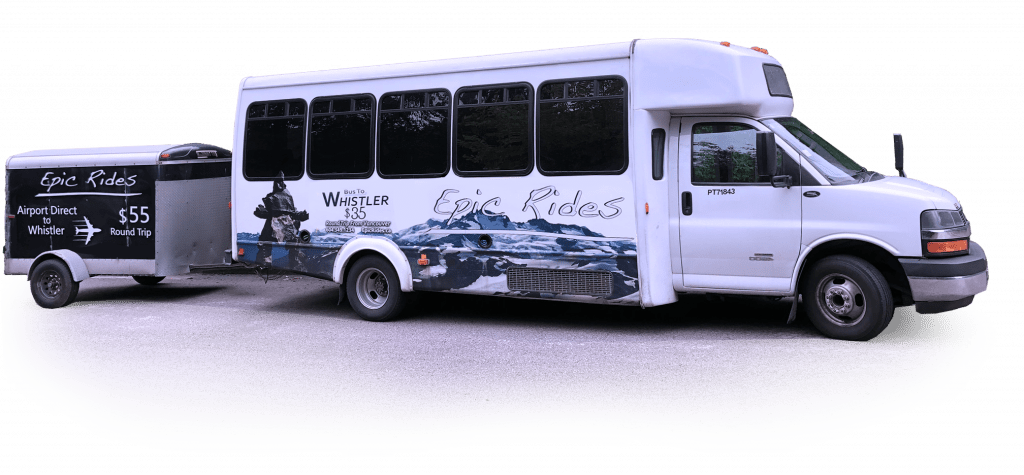 24 Passenger Bus
Schedule
Our Airport Transfer Buses are currently running on the following Daily Schedule:
For January and February the 4:00PM Departure from Whistler on Saturday's and Sunday's will be scheduled at 3:00PM. This is to avoid mass congestion in Whistler during this period so we can ensure passengers arrive at YVR as scheduled.
***Buses that leave Whistler on Saturdays and especially Sunday's at 4PM in January and February have a high probability of hitting traffic jams that can delay you for up to 90 minutes.